Luxury Portable Restroom Trailers Quality, luxury portable restroom rentals at an affordable price.
Our goal is to provide luxury portable restrooms that are as comfortable as the bathrooms in your home. We cover all your upscale and executive portable restroom needs. Our bathrooms have flushing toilets, sinks with running water, counter tops, mirrors, bright, ambient lighting with spacious stalls.
Experience the ultimate in luxury…this well furnished Bathroom is perfect for high end events which require a more nuanced touch. Featuring well appointed cabinet and flooring furnishings, treat your guests right with this amazing portable restrooom.
Ideal for special events such as:
Weddings
Special Events
Corporate Events
Holiday Party
Graduation Party
Sporting Event
Campsite
Golf Course
Bathroom Remodels
…. And More
We deliver luxury portable bathrooms and executive restrooms across Oahu, Hawaii convenient and portable trailer rentals
Self Closing Faucets
Soap and Hand towel dispensers
Shatter proof mirror
Flushing Toilets
Tri-roll toilet paper holder
Sanitary receptacle (women's only)
Waste basket
Automated Deodorizers
LED porch light & Occupancy indicator lights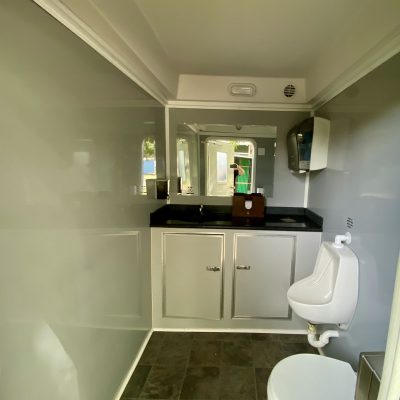 Privacy with a Touch of Class Providing Subtle Elegance and Quality insures the Fondest Memories
Self Closing Faucets
Soap and Hand towel dispensers
Shatter proof mirror
Flushing Toilets
Auto flush urinal (men's only)
Tri-roll toilet paper holder
Waste basket
Automated Deodorizers
LED porch light & Occupancy indicator lights